"Blue Crab" is a crab which appeared in "Steven and the Stevens". When Steven decided to go to It's A Wash, the crab comes before him and Steven tells him "After you, sir".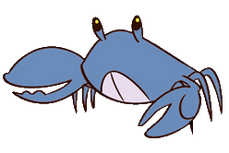 Episode Appearances Edit
"Steven and the Stevens" (debut)
"Say Uncle"
Trivia Edit
Blue Crab is accompanied by various underwater friends, each Crystal Gem comes back with a sea animal. These include:

Amethyst's fish (which she proceeds to eat),
And Steven's crab which he lets out of the beach house.

Blue Crab closely resembles a Chesapeake Blue Crab.
Ad blocker interference detected!
Wikia is a free-to-use site that makes money from advertising. We have a modified experience for viewers using ad blockers

Wikia is not accessible if you've made further modifications. Remove the custom ad blocker rule(s) and the page will load as expected.